Article by Fred Matheny and Ed Pavelka
You should choose cycling shorts based on the quality of materials and construction. But also crucial is how well they conform to your unique anatomy. Shorts, like saddles, are tough to recommend because of differences in butts, crotches, seats and riding positions.
Here are some guidelines that will help you make a more informed decision.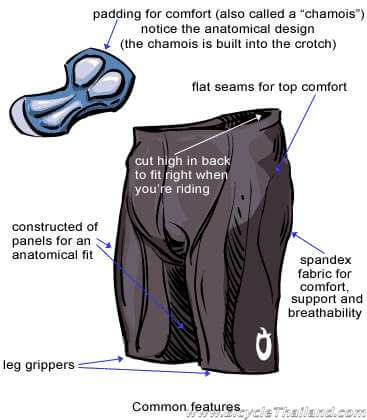 Price. Generally, the more expensive the shorts, the higher the quality. Avoid the temptation to purchase several inexpensive pairs of shorts over fewer high quality pairs. Excessively inexpensive shorts will be made from a lower quality material and their construction may be substandard. They may be sewn from only 4 or 6 pieces ("panels"), which won't give you the best anatomical fit. The padded liner ("chamois") may not be large enough, soft enough or sewn without irritating seams. Cheap shorts are not as durable, either, so in the long run they really are not a bargain. Keep in mind that when touring and washing shorts by hand, wringing can break threads and blow out seams if the manufacturer cut corners on quality.
Panels. The more the better. Usually, 8-panel shorts conform to your body better than those made from fewer pieces. Better manufacturers use flat-seam stitching so additional panels won't result in abrasion or other discomforts.
Liner. Crotch liners are synthetic nowadays. They are no longer made of real chamois leather. That's a good thing because the material can't dry, crack and cause more irritation than it prevents. A large, smooth, absorbent, one-piece, moderately padded liner has the best chance of feeling comfortable. Liners that have seams, grooves, distinct sections and/or a waffle-like texture may work fine for you — or maybe not. There's no way of knowing for sure before riding. Beware of thick padding, which can bunch and chafe. Also problematic are gel inserts. Because they are in plastic compartments, moisture transfer can be blocked, causing excessive dampness and skin irritation.
Leg length. The length should not be so short that the nose of the saddle rubs on bare skin.
Waist length. Proper cycling shorts are cut high in back to keep skin covered in the bent-over riding position. Likewise, they are low in front so you can bend forward without restriction. The front shouldn't be so low, though, that it's below your hip bones with nothing to help hold it up.
Waist band.The elastic should be wide enough that it doesn't feel like a cord around your middle. Some manufacturers add a drawstring. Just elastic is fine. Just a drawstring is not. If a drawstring is the only thing keeping the shorts in place, you'll feel restricted in certain positions or when breathing deeply.
Leg grippers.Nothing is more frustrating than shorts that ride up and let material bunch in the crotch. Check the leg grippers to be sure they are wide, made of "sticky" rubber-like material and securely sewn in. The legs should feel comfortably snug, not tight.
Bibs. Shorts with built-in shoulder straps prevent sagging. They keep the chamois snug against the crotch to limit movement and irritation. For men, this prevents the chance of things moving out of place when pedaling out of the saddle. However, the high front makes it difficult for guys to urinate. (Some prefer to roll up one leg instead of contorting to pull down the front.) Women usually prefer shorts without bibs so they don't have to remove their jersey to take a "nature break." Bib shorts tend to be more expensive than standard shorts.
Size. It's best to try on shorts before buying them. Sizing varies among manufacturers. It's risky to buy shorts by mailorder unless you're replacing a model and size you are familiar with.
Overall fit.Snugger is better. You don't want any uncomfortable restriction, but you do want the shorts to stay exactly in place. Properly designed cycling shorts will look a bit baggy in the butt when you're standing in front of the dressing room mirror. When you crouch forward into the riding position they will mold to your body.