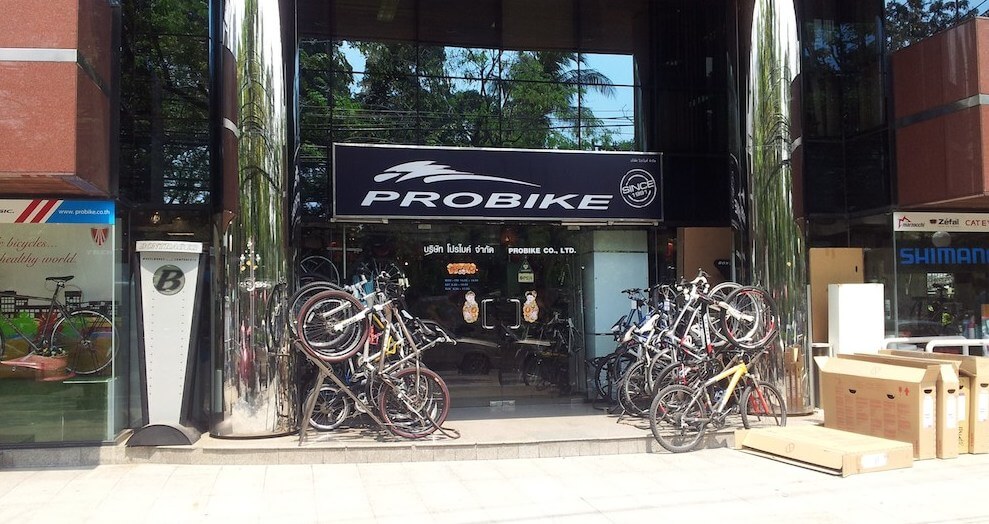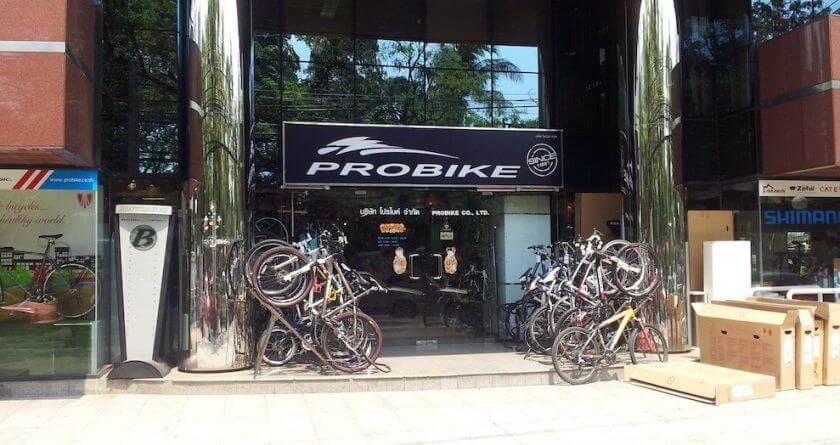 My favorite bicycle shop is and has always been the Pro Bike shop on Sarasin road opposite Lumpini park in downtown Bangkok. Several years ago I ventured around Bangkok and the outer city limits from shop to shop looking at bikes that were within the needs I requested. Only one of the shops actually consulted with me for what I desired and assisted me in how best to spend my money, Pro Bike. Most of the shops were there to sell me what they had on the floor as a "take it or leave it" or simply told me that they were not able to offer me any additional selection through an order. One of the shops actually told me they didn't want my business, even after I told them I was brand particular and had politely taken off my shoes in order to enter the store.
Pro Bike's staff made me feel as though I were a person and a fellow rider from the first time I visited. They did not push me to buy that day but rather offered me a selection to choose from based on my needs and exactly what my money was buying.
Eventually I placed an order for a mountain bike and the following year a road bike, both of which were exactly what I wanted. I use the services at the shop as well, and have made it a custom to have a quick check done before every race and a clean and tune after a hard ride.
The staff there, in particular Jackie, has been a friend to me for several years now, to the point of introducing me to his circle of riding friends outside Bangkok. He takes my calls on his mobile and has always expressed my needs to the Pro Bike mechanics. Several of my friends have visited and made purchases from Pro Bike with like comments from their experiences.
When it comes to convenience, quality, service and a staff that knows riders and a dollar well spent, Pro Bike is the BEST in Thailand.
– Frank DeSomer
---
ProBike Co., Ltd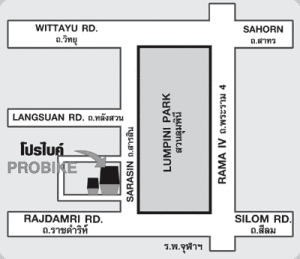 231/9 Sarasin Road
Khwaeng Lumphini, Khet Pathum Wan
Bangkok 10330
ภาษาไทย [+]
บริษัท โปรไบค์ จำกัด
231/9  ถนนสารสิน
แขวงลุมพินี  เขตปทุมวัน
กรุงเทพฯ 10330 Tel. 022-533-384
[Thailand Distributor: TREK, KLEIN, GARY FISHER, CHALLENGER, TERN, CYCLEOPS, SARIS]
GPS – N 13 44.078, E 100 32.416
Visit the Pro Bike website or on FaceBook