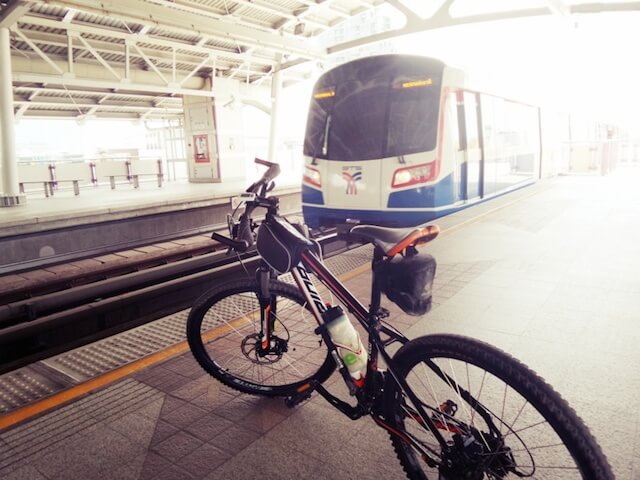 On the 1st of October, 2015, Bangkok's BTS stations planed to start allowing only folding bicycles, which must be stored neatly, onto its trains. The reason for this was to give more room to passengers because normal bicycles were deemed to be taking up too much passenger space on the trains. This planned rule would mirror the same rule enforced on Bangkok's underground train system (MRT) as well as its Airport Rail Link, which serves Suvarnabhumi International Airport. Passengers who bring bicycles which are not folding bikes such as mountain bike, road bike, hybrid bike, touring bike, vintage bike, and other, will not be allowed onto the train. This notice was advertised on the 1st of July, 2015 but was not strictly enforced.
It is the opinion of the author of this article that this decision by the BTS management is contradictory to the purpose of the train system, which has been proven very useful to cyclists traveling to different locations throughout Bangkok. The BTS offers a more safe mode of travel when combined with commuting long distances by bicycle at night or in the early morning hours.
The author of this article understands that bicycles do take up slightly more space on the train, which could lead to the disturbance of other passengers, so he provided the following measures to address these issues:
Do not allow bicycles during peak operating times (Rush Hour).
Increase the train size by 1 more train carriage or refit 1 existing train carriage to specifically accommodate standing passengers only, passengers with luggage, passengers with baby strollers, wheelchair bound passengers, and other special cases.
Charge cyclists more for the extra space their bicycle uses.
The author would like to ask all cyclists that use the BTS to share their opinion about this ruling with the BTS management in the hope that the support of cyclists wanting to use the BTS will encourage them to change their ruling and make special arrangements for cyclists. The author would also like to pass on his personal thanks to all station staff and security guards who have been very helpful to cyclists since the opening of the BTS.
Original article posted on June 29, 2015 at Rider In Thai blog
---
A comment to the above article was posted by a cyclist on the popular Pantip.com website – จากคุณ c_fenix เว็บ pantip
"About this ruling which said that bicycles could probably be a disturbance to other passengers on the train because Bangkok has increased more cyclists who travel with bicycles on BTS stations plus it is safe to use at night. In his opinion, he suggested them not to allow bicycles from 07:00 am-09:00 am and 04:00pm-06:00pm (rush hours times). They should increase 1 empty train carriage for passenger with big luggage because BTS stations are linked to the airport rail link and they get many passengers with big luggage every day. It is understood if the BTS management might see that it is not worth the budget if they change it in this way. So, to help with the budget the recommendation that they should increase the train size with 1 empty carriage and have cyclists pay 20-50 Baht more, which I'm sure they'll be happy to pay for their bicycle."