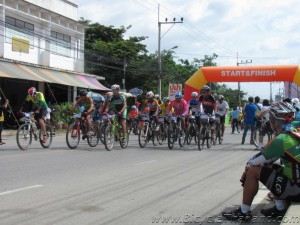 On Sunday, August 5th, 2012 the small city of Pak Nam Pran was host to over 250 mountain bikers who competed in the first edition of the Pak Nam Pran Buri Mountain Bike Cup. Pak Nam Pran Buri is a small town on the coast in the Prachuap Khiri Khan province of Thailand. This area is just a short drive south of the larger holiday destination city of Hua Hin. With beautiful blue skies and minimal cloud cover on Sunday the temperature soared high, having a noticeable effect on the riders. Sunday's race was organized by the municipality of Pak Nam Pran with support from sponsors Singha, Tipco, Toyota, Sport Bicycle, Bacchus Home Resort, and Hua Hin Bike.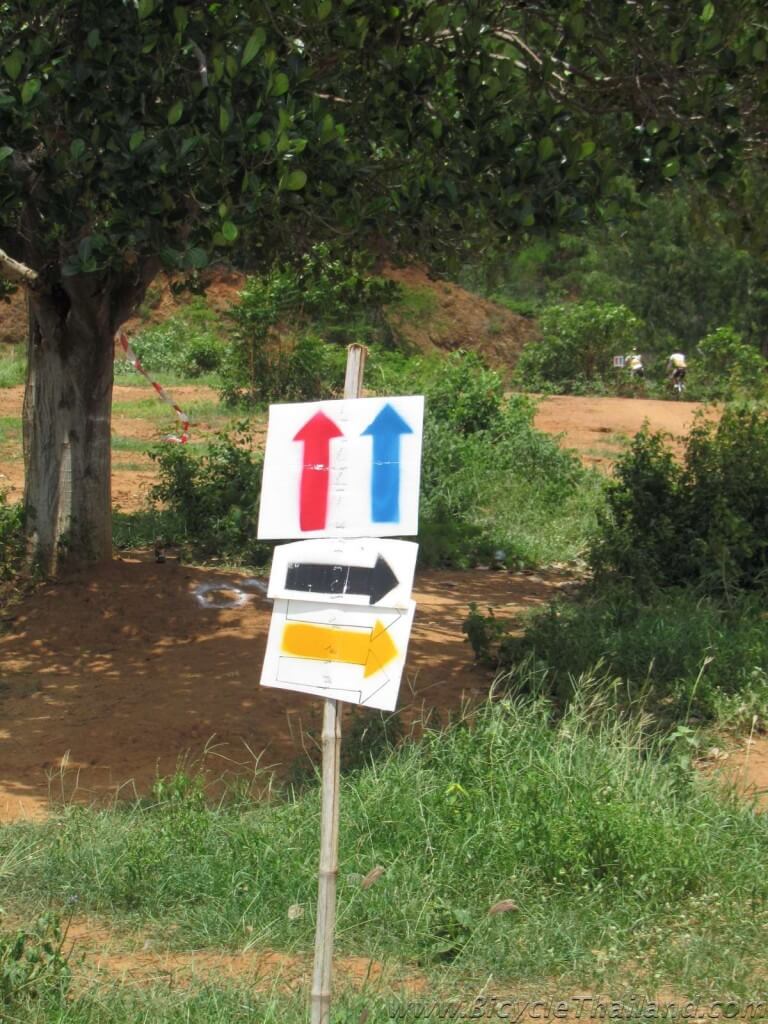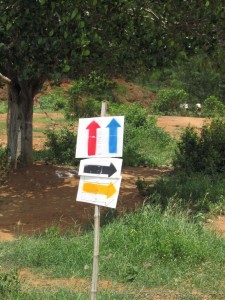 The race offered registration in four different categories (Red, Blue, Black, and Yellow). The different  categories were rated by course distance and difficulty of the trail. The four categories were further divided into men, women, and youth age groups. The first race of the day started at 10am after an opening ceremony that featured local dignitaries from the municipality and Thailand sports authority. The mountain bike competitors, grouped by category and age, were released from the start point in 3-minute intervals at 10am. An additional race was held at 1pm for more advanced and older racers.
The MTB course utilized the main paved road heading south from Pak Nam Pran for a quick sprint start of approximately 1.5 kilometers before hitting the narrow dirt trail section of the race. While the Blue and Red marked courses traversed much of the same trails, the Black and Yellow marked courses were much shorter and incorporated far less climbing, making them more suitable for the Women and Youth categories of racers. The dirt sections of the race were a good mix of tight and technical singletrack that had a good bit of climbing, causing more than a few competitors to dismount on the most extreme parts of the course. The race course for the Red and Blue categories was approximately 23 kilometers in length and competitors were required to complete one lap.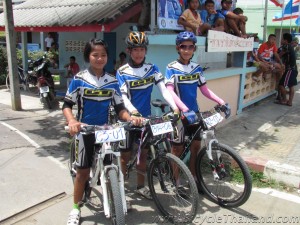 A medical aid tent, three water stations along the route, and the presence of motorbike escorts and emergency vehicles for each category of racers upon their departure from the start line were signs of a well organized race. This race saw riders in the field from as far away as Sukhothai and Samui. Several other cycling clubs were well represented in every category of the race. Sponsor booths featured some top-notch bike kit while the obligatory Thai food, snack, and drink vendors were on hand to feed the need of racers and spectators alike. Medallions were awarded to every competitor in each category upon completion of the race.
View more photos of this race on the BicycleThailand.com FaceBook page
A GPS (.gdb and .gpx file format) track of the Blue race course is available for download on the BicycleThailand.com Ride Maps page.