Explore the countryside around Chiang Mai on two wheels with Grasshopper Adventures' 2 new cycling tours.
Further to the recent opening of Grasshopper Adventures' new Chiang Mai branch, the Asia cycling tour specialists have launched an additional two new day tours exploring the countryside around Thailand's northern capital.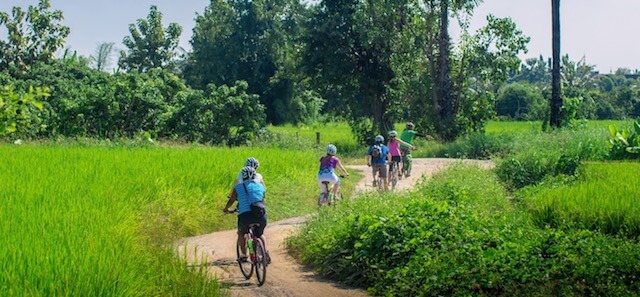 'Chiang Mai Countryside by Bike' is a full day tour outside of the city, visiting the old town of Lamphun along with its surrounding villages and rural areas. Starting with a train ride to Lamphun, participants then cycle through the town visiting the wonderful Phra That Hariphunchai temple, before turning in the direction of Chiang Mai, riding through orchards and alongside canals. With a delicious local Thai lunch included, the trip continues to the wood carving village of Ban Tawai, through rice paddies and forest, and into the shadow of Doi Suthep hill, where a visit is made to the temple and caves of Wat Umong. Heading back into Chiang Mai the tour ends back at the Grasshopper shop in the northeast corner of the old city.
Chiang Mai Countryside by Bike
Departs daily at 08:30
2,000 Thai Baht per person
Distance: 57km
Book Chiang Mai Countryside by Bike tour online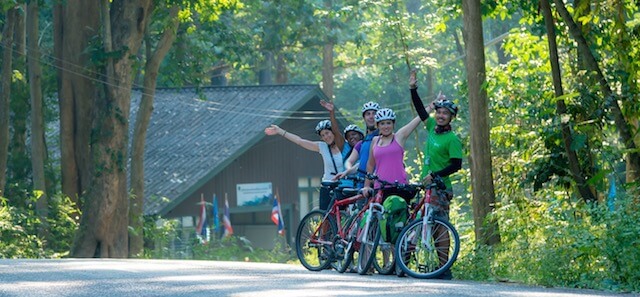 'Let's Just Ride' is a full day tour focusing exclusively on the natural attractions surrounding Chiang Mai. Heading west towards Doi Suthep the tour follows the wooded lanes at the foot of the hill. From here, pedaling along dedicated bike lanes, the tour enters a bicycle park with tree covered paths, where a gradual climb takes riders up to the Tueng Tao Creek Reservoir. After a spin around the reservoir there is a stop for a lakeside lunch, followed by the chance for a swim in the lake. The route back to Chiang Mai follows tracks through rice fields and vegetable gardens before taking guests back into the city on back lanes and alleyways, with the trip ending at the Grasshopper shop.
Let's Just Ride
Departs every Monday, Wednesday, Friday and Sunday at 10:00
1,500 Thai Baht per person
Distance: 39km
Book Let's Just Ride tour online