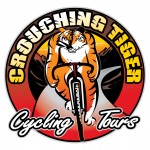 Crouching Tiger Tours started with a dream. Inspired by a love of cycling, and a history of riding cyclosportives in Australia and Europe. With a passion for Thailand, Crouching Tiger's founder, Marcus Maguire got together with two friends in 2008 and formed a small independent road cycling tour company. Equally enthusiastic for cycling, travel and all things Thai, Marcus and his friends formed a partnership from which a small but diverse team has developed.
"Thailand is my home now," explains Marcus. "I'm here today because of one unforgettable cycling holiday. I discovered a country that has an extraordinary ambiance. Thailand is a land of such diverse beauty; from the tropical south to the arid plains of the east, and the awesome mountains to the north. It's the kind of place you can never visit just one time. I'm here today welcoming friends, both old and new, to discover a place that I am so passionate about."
Over the past years the company has grown. Crouching Tiger Tours now specializes in tailor made, fully supported bespoke tours for groups of enthusiastic road cyclists wanting an unforgettable experience of cycling in a foreign country. Many years experience in cycling has given the company an understanding of the needs and motivation of cyclists. Taking the stress and organization of a cycling holiday off their clients' shoulders and offering them an experience that meets both budget and expectations is what Crouching Tiger Tours prides itself on. Their satisfaction comes from creating an experience that ties in a love of cycling with great roads, amazing scenery, exotic culture, and delicious food and of course a climate that is perfect for cycling for many months of the year.
The roads in Thailand also present huge training opportunities, especially in the North where the roads are fast becoming renowned in terms of the challenges they offer. Many of Crouching Tiger's clients join a tour in order to train hard for the European and International racing season. Riding in Thailand year-round is especially beneficial when an escape from the harsh winter weather elsewhere means the serious cycling can continue.
"Every day on the bike results in a new adventure. Our motivation at Crouching Tiger Tours is to share this with our clients. Our reward is that our enthusiasm rubs off on them. Our aim is to offer an unforgettable experience and give a new perspective on a fascinatingly different culture while sharing the sport we love. We pride ourselves on our customer service and aim to build our long-term business through referrals. Our customer feedback rating is our proudest achievement to date," said Marcus.
The vision at Crouching Tiger Tours:
Continue to explore and develop new, exciting routes and tours
Encourage more people to discover the rewards of cycling in Thailand
Work with and enjoy developing relationships with the local Thai people
Offer clients the very best experience while keeping tours flexible, safe, fun and personal
Please visit www.crouchingtigertours.com to see detailed itineraries or to contact the Crouching Tiger Tours team directly.
Crouching Tiger Cycling Tours
69 Mahidol Rd
Hai Ya
Chiang Mai 50100
Thailand
Email: info@crouchingtigertours.com
Tel/Fax: +66 (0)53 202 501
Find us on Facebook
Find us on Google Maps ››
Tourism Authority of Thailand
Tour Operator License No. 24/0021