Whenever you're out on your bike there's always the chance that something can break or come loose. Do you have the right kit to get you home?
Most riders carry a pump, a tire lever or two and a tube, but what if…
Your chain breaks? Your handlebars come loose? Your saddle falls off the post? Do you have the necessary tools to get you home?
This month's issue will cover all the basics every rider should pack before they head off for the hills, and also some of the other options that are available.
Pumps:
There is a huge selection of bicycle pumps available on the market today and lets be honest, they all do the same thing.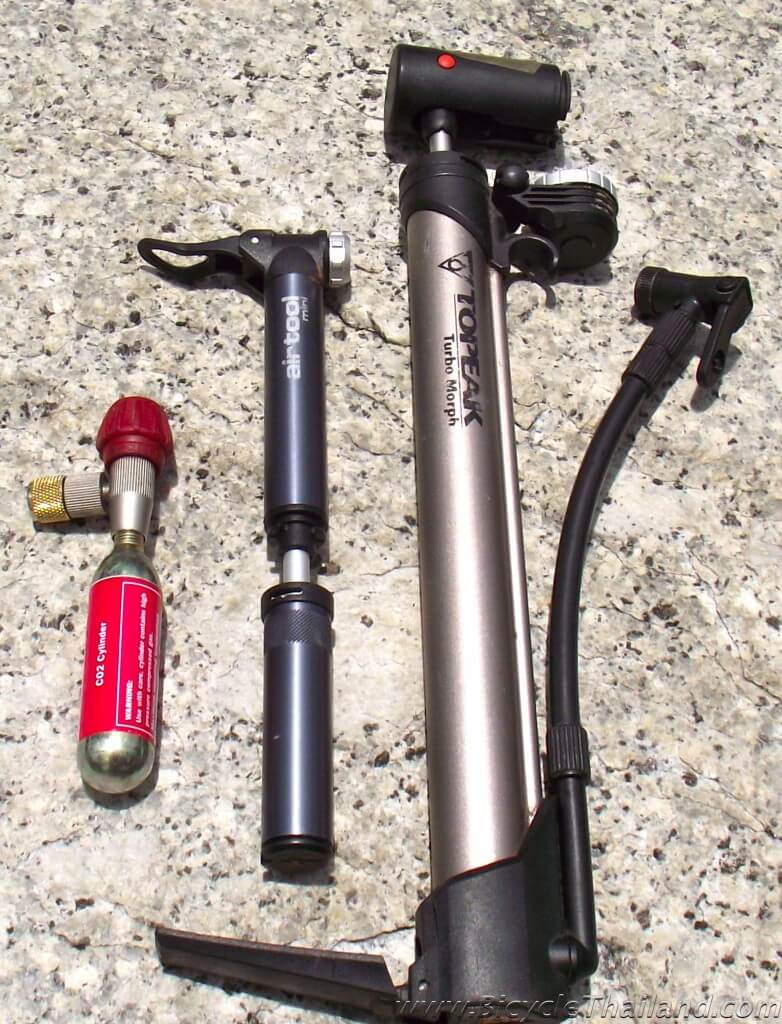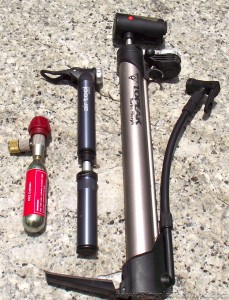 Ideally you will want to have two pumps; the first being a track pump or floor pump. A track pump will pump your tire to the correct pressure very quickly and with minimal effort. The large size of these pumps prevents them from being carried in your pack or on the bicycle.
Tire pressures should be checked before every ride and adjusted to suit the riding conditions you're about to face.
The second pump every rider needs is a hand pump. The bigger the hand pump, the quicker it will inflate the tire but the more space it will occupy in your pack. A small pump is likely to take longer but will easily fit in your jersey pocket.
Also available, and the choice for many roadies and those competing in races, is the CO2 pump. This type of pump works by forcing highly pressurized CO2 into the tire, filling the tire in seconds. The down side is you get one use per canister so these are not ideal for a long ride in the wilderness, or for multiple punctures.
The mini pump in the picture has space for a puncture repair kit in the handle and the pump can be used for both presta and schrader valves. The larger pump has a pressure gauge, a fold out handle for comfort and a foot stand so the pump can be used in the same way as a floor pump.
When choosing which pump to buy, take into consideration reliability over price. A cheap pump is likely to stop working just when you need it.
Tools
Just as with pumps, there are many tool sets available. Some are very basic, while others are equipped to fix almost any situation. Some tool sets are also tiny, ideal for the weight conscious rider.
The two focused on here are arguably the most popular and are available in almost all well-stocked bike shops.

The first is a simple set of hex keys or allen keys as they are more commonly known. You will find most of the popular sizes on this set, enabling you to make any little adjustments to your bike; such as raising the saddle or attaching a bottle cage. These are a perfect set of allen keys that when carried with other tools will help to fix most problems.
The second tool in this picture is a fully loaded, do anything, multi-tool.
With 26 tools in total; including a chain tool, a knife, tire levers and spoke keys. This is perfect for any situation and will nearly always enable you to get home.
Quality tools can appear to be a little more expensive, but they are less likely to let you down when you need them most.
Riding the wilderness
What you decide to take on a ride with you is personal preference. Here is a selection of recommendations to make the unknown a little easier to deal with: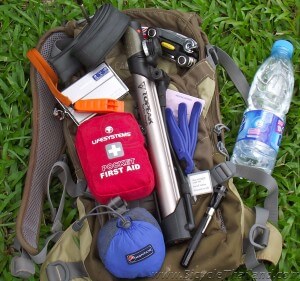 Pump & Tube
Mini tool kit & tire levers
First aid kit – a basic understanding of first aid goes a long way.
ID card
Rain coat – It rains a lot in Thailand.
Torch or Bike lights – It can get dark very quickly.
Small Change – For the cab home when you just can't fix it, or that must have ice cool refreshing drink!
Camera – For capturing those moments you just have to share.
Whistle – Ideal for getting attention when there's no phone signal.
Mobile phone
Remember whatever you ride, and wherever you ride it, always ride hard.