Farm Chokchai and Bangkok Post
present Tour de Farm 5
Thailand's most popular bike racing competition. Chokchai International Company Limited together with The Post Publishing Public Company Limited "Farm Chokchai & Bangkok Post Tour de Farm 5" event under the concept "Transform Your Fear to Focus" on December 13, 2015 at Farm Chokchai Farm 3 in Nakorn Ratchasima's Pak Chong district.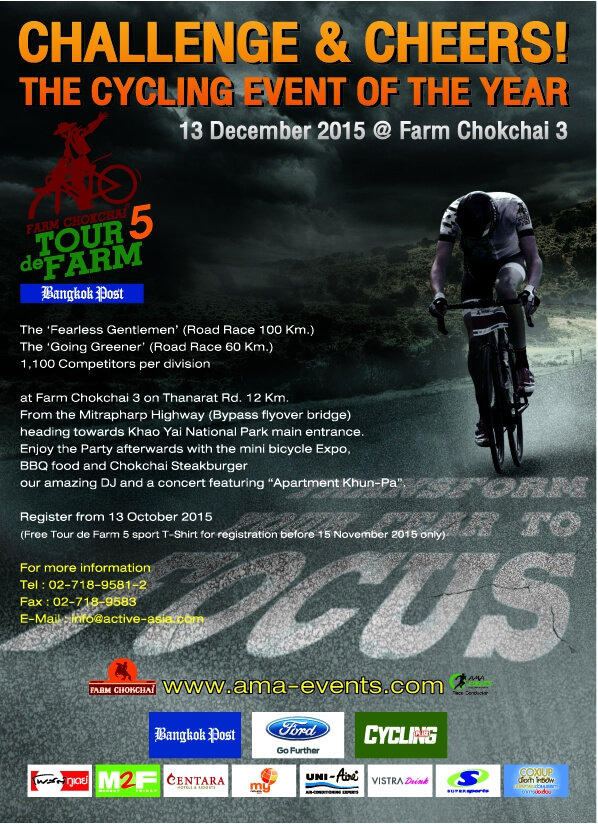 Since its inception, the "Tour de Farm" bike race has received overwhelming interest from riders. This year, the race will be held in two categories: The "Going Greener" (Road Race 60 kilometers.), The "Fearless Gentlemen" (Road Race 100 kilometers.) Limit to 1,100 rider for each category.
The race is organized to help raise awareness about sports and eco-tourism in Pak Chong and make the district a destination of choice for recreation and adventure lovers. 200,000 Baht will also be donated to the "Foundation for Khao Yai National Park Protection".
Enjoy the After Party Celebration with the mini bicycle Expo, BBQ food and Chokchai Steakburger as well as amazing DJ and Concert featuring "Apartment Khun Pa". Online registration is available through www.ama-events.com
Registration within November 15, 2015 will receive Tdf5 T-shirt Free. Due to the popularity of the previous years' races, early registration is highly recommended.
Registration for "Tour de Farm 5" opens October 13, 2015 at 6pm. 
More info click here
Do not miss all information and updates of all
"Tour de Farm 5"
Tour de Farm official fanpage: www.facebook.com/tourdefarmcycling
---
เอเอ็มเอ อีเว้นท์ ภูมิใจเสนอ การแข่งขันจักรยานทางเรียบแห่งปี
"ฟาร์มโชคชัย บางกอก โพสต์ ทัวร์ เดอ ฟาร์ม 5"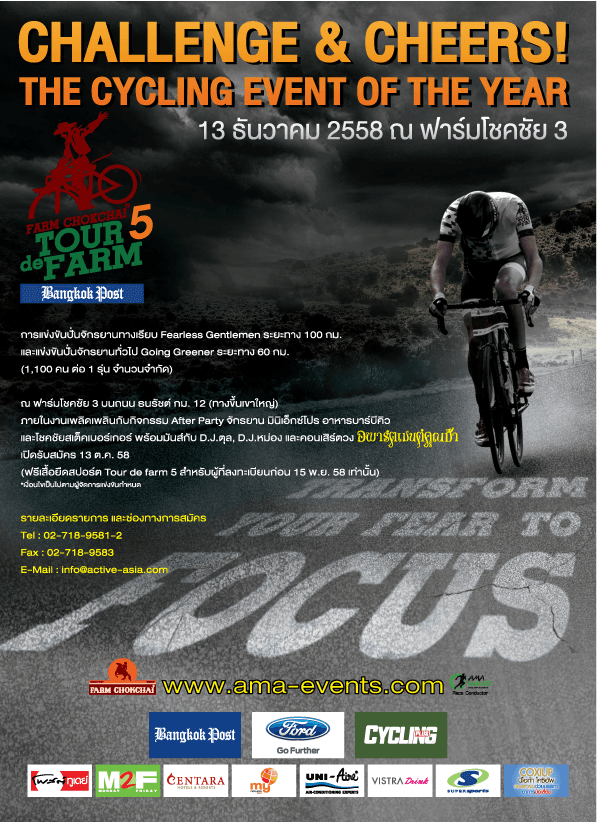 กลุ่มบริษัทฟาร์มโชคชัย บริษัท โชคชัยอินเตอร์เนชั่นแนล จำกัด และ บริษัทโพสต์ พับลิชชิง จำกัด (มหาชน) ขอเชิญผู้ที่รักการปั่นทุกท่านร่วมแข่งขันจักรยาน "Farm Chokchai and Bangkok Post Tour de Farm 5" ภายใต้ Concept "Transform Your Fear To Focus" เปลี่ยนความกลัวให้เป็นจุดมุ่งหมายขึ้น ในระหว่างวันที่ 13 ธันวาคม 2558 ณ ฟาร์มโชคชัย 3 อำเภอปากช่อง จังหวัดนครราชสีมา เพื่อส่งเสริมการกีฬาและการอนุรักษ์การท่องเที่ยวเชิงธรรมชาติในเขตเขาใหญ่ ปากช่อง ให้เป็นที่นิยมและรู้จักมากขึ้น
การแข่งขันปั่นจักรยานในงาน Tour de Farm ได้รับการตอบรับล้นหลามทุกปี และในปี นี้ได้มีการแข่งขันทั้งหมด 2 ประเภท คือ การแข่งขันจักรยานทางเรียบ "Going Greener" Recreational cycling ระยะทาง 60 กิโลเมตร การแข่งขัน "Fearless Gentlemen" Road cycling ระยะทาง 100 กิโลเมตร
การจัดกิจกรรมในครั้งนี้ ทางผู้จัดได้เพิ่มและเน้นการยกระดับมาตรฐานการจัดการในทุกด้าน และส่งเสริมให้ผู้เข้าร่วมมีน้า ใจนักกีฬา โดยกิจกรรม Farm Chokchai and Bangkok Post Tour de Farm 5 รายได้ 200,000 บาท มอบให้มูลนิธิพิทักษ์เขาใหญ่ เพื่อสนับสนุนเป็นปี ที่ 5 อย่างต่อเนื่อง
ภายในงานเพลิดเพลินไปกับมหกรรมงานจักรยาน มินิเอ็กซ์โปร อาหารบาร์บีคิวและ โชคชัยสเต็คเบอร์เกอร์ พร้อมมันส์กับ ดีเจที่น่าตื่นตาตื่นใจ และคอนเสิร์ตวง "อพาร์ทเม้นท์คุณป้า" ผู้สนใจสามารถสมัครทางเว็บไซด์ www.ama-events.com
สำหรับผู้ที่สมัครภายใน 15 พฤศจิกายน 2558 จะได้รับฟรีเสื้อ Tdf5
และเนื่องจากการแข่งขันที่ผ่านมาได้รับความนิยมอย่างมาก จึงขอให้ผู้ที่สนใจรีบสมัครก่อน เพื่อจะได้ไม่พลาดการแข่งขันครั้งนี้
1,100 คนต่อรุ่น จำนวนจำกัด
ข้อมูลเพิ่มเติม คลิกที่นี่
อย่าพลาดข้อมูลข่าวสารเพิ่มเติมเกี่ยวกับการแข่งขัน
"ทัวร์ เดอ ฟาร์ม 5"
แฟนเพจอย่างเป็นทางการ ทัวร์ เดอ ฟาร์ม:
www.facebook.com/tourdefarmcycling