This month's featured bike shop in Thailand is Racha Bike. Racha Bike is located in Chonburi province, amphoe Si Racha, on a small soi behind Robinson's Department store on Highway 3.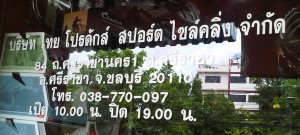 Racha Bike – Si Racha (Cycling Sport Products Co., Ltd.)
84 Si Racha Nakhon 1 Road
A. Si Racha
20110
ภาษาไทย [+]
ร้านราชาจักรยาน สาขา ศรีราชา (บริษัทไซคลิง สปอร์ต โปรดักส์ จำกัด)
84 ถนนศรีราชานคร 1
อำเภอศรีราชา
จังหวัดชลบุรี 20110
Tel. 038-770-097, 085-121-1819
GPS – N 13 10.015, E 100 55.721
Racha Bike is not only a storefront shop for patrons to visit but it is also an importer and distributor of many bicycle brands and accessories to other shops throughout Thailand. On more than one occasion I have inquired of a bicycle shop to locate some hard-to-find part only to later find that the part had come from Racha Bike. Many shops throughout Thailand source their stock from Racha Bike and that fact in itself makes this particular bike shop worth a visit.
The actual store showroom is small and cramped but don't let the size of Racha Bike fool you. Top notch kit and parts can be had if you arrive with the old part or a detailed description of what it is you are looking to find. Many residents of surrounding provinces, including riders from Bangkok, make the long trip to Chonburi to take advantage of this treasure trove of supplies. If your local shop has difficulty finding something for you and you'd rather not make the trip to Racha Bike yourself, simply pass Racha Bike's phone number to your local shop and have them inquire for you. As with all of our featured bike shops here on www.BicycleThailand.com we have provided the GPS coordinates of the shop in order to remove the frustration of locating the store using only its Thai address. Happy Riding!