Coastal Chanthaburi is maybe the most bicycle-friendly part of Thailand?
On the mainland roughly between Koh Samet and Koh Chang the coast road has been developed with brad new red-colored cycle lanes on each side. Sure they still get used at times by slower motorbikes, but the colored lanes, the signposting - and how about that 'bicycle parking' - is a big step up from anywhere else I've been riding in Thailand. Cycle-friendly indeed. There's plenty of cyclists in this area of Thailand; lots of active 'mature' Thais out on bikes, a mix of road/race bikes and big frame MTBs with road tires, groups from Chantaburi Burapha University, mix of male and female, and also a University MTB group we've seen heading into the surrounding hills.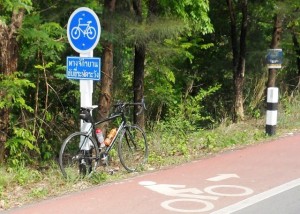 We've been at the bus station in Chanthaburi city (30km to Chao Lao) and seen people coming/going with their bikes on the bus, nice weekend away for low-key touring, a backpack and some good accommodations at Chao Lao for 500b a night, less if you just want a fan room and no air conditioning. For more low-key riding, several of the beach resorts rent bicycles by the day/hour. The best I've seen is from the store in Chao Lao with the ATM machines and gas station; about three months ago they bought eight new MTBs for hire.
Apart from the cycle-lane roads there are so many other routes with little traffic and good scenery, all that's missing are hills if that's what you want, it's basically flat and changing gears doesn't happen too often, best hill is a small, steep one at the south end of Chao Lao beach.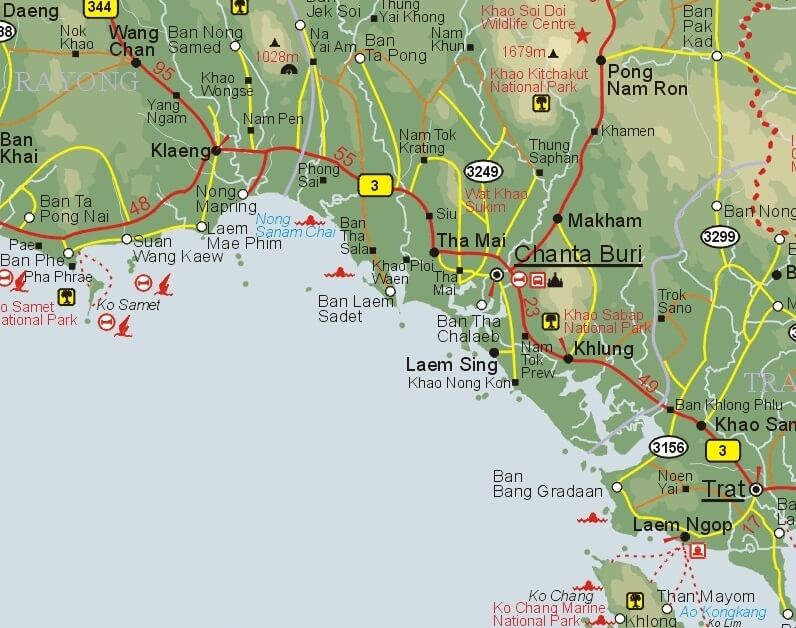 Things to see along the way

Laem Sing - small coastal fishing village. There is accommodation here, some seaside restaurants, and an ATM machine.
Laem Sing beach - many kilometers of white sand beach, isn't the best for swimming May-October (especially the northern end) as too close to the river mouth and tends to be brown from silt carried down the river.
Kuk Khi Kai - built by the French Army in 1893 when this was French occupied territory and used to imprison Thai rebels; known as 'chicken dung cell' as chickens were kept on the grated roof above the prisoners.
Tuek Daeng - 'the red building' was once French military barracks, later used as a library/museum now locked up and unused.
Laem Sing (Great King Taksin or Taksin Maharat) Bridge - opened May 2008, before then it was either ferry across or a 60km drive; good views on a clear day inland towards the hills of Namtok Phlio National Park in the distance.
Chaopho Laemsing Shrine - Chinese shrine about 400m west of the northern end of the bridge.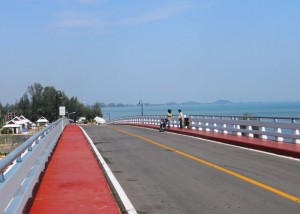 Over the bridge and continuing north along the coast, options to turn left to Ao Yang and or Ao Krathing, two secluded bays with safe swimming beaches. There is cheap accommodation at Ao Krathing and Ao Yang, 400b per night. Other than that, the next 10km or so is a simple road, all-flat, along the coast, 20-50m from the sand. Easy to spot the two temples on top of the few hills in the area, both about 1km inland; one is a 240-step climb and unfortunately what would once have been a fantastic view is now mainly obscured by trees. The second is still under construction, the golden Buddha is visible from a long way off, and a road leads almost to the top of the hill, good views of the coast and surrounding countryside.

Back on the main road and you're at Pak Nam Khaem Nu and the site of the second recently built bridge, which will take you over the hill to the south end of Chao Lao beach. At the south side of the bridge is a new rest area and site of the 'bicycle parking area' - nice spot at the river mouth to take a break in some shade. Another option is to head inland from here to Tha Mai - 12km, and another 12km from there to Chanthaburi city.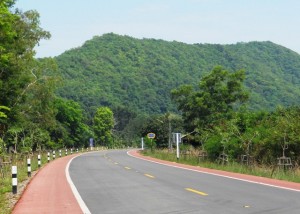 Over the bridge heading north, at the end of the bridge you'll see a beached boat that has been converted to a cafe, and a road that heads off to the right, following the river to Khlong Khut and Burapha Chanthaburi University campus (about 10km).

Better to follow the marked cycle lanes, turn left towards the river mouth and over the hill, a tight right-hand corner and the steepest hill on the coast road, for me using my lowest gear. About 50m before reaching the flat road there's a track down to the left that gives access to a reef and a reasonable snorkeling area for beginners when conditions are good. Chao Lao beach is 5.5km long. Plenty of accommodation here if you choose to stay. Fan rooms advertised from 300 baht. This area is very popular with Thais, especially on weekends and school holidays. Halfway along the main road there's a big general store next to the gas station, two ATMs, chalet accommodation for 500/night.

Continuing on through Chao Lao township - there's about 2km of cycle lane separated from the road by a median strip, on the sea-side of the road - you'll reach the dugong roundabout, this is Ban Mu Dud in memory of the dugongs that were once common in the estuary but now all but extinct.

Continue straight ahead to Laem Sadet, about 2km, where the road ends, you're now on a point of land with estuary to the right/east, and Laem Sadet beach to your left/west side

A few things to see here

The aquarium, part of a marine research center. Well-kept and maintained, hugely popular with school groups, and . . . there is no admission charge. Free. There is a donation box if you feel the urge to donate.
Laem Sadet beach - popular with surfcasters/beach fishermen, but swimming is ok in calm weather only; it is a 'shelf' beach, very steep, deep very quickly and often unsuitable for swimming - especially at this time of year. Several 'no swimming' signs - if you do want a swim head at least 1km south where it's safer.
Khung Kraben Bay Royal Development Study Center is based across the road from the rear of the aquarium. It monitors the extent and degree of mangrove destruction over recent decades to make room for large-scale shrimp farming, develops restoration strategies, and launches rehabilitation programs. Entry is free.

As for traffic - the busiest road is the section from Thai Mai through to Chao Lao and Khung Wiman - 17km and while I've never seen an accident, they do go fast, traffic increases from 10am on weekends as people travel from Chanthaburi city, best avoided for cyclists.

Khung Wiman (various spellings, Koong Viman, Kung Wiman)
Heading out of Chao Lao, at the dugong roundabout follow the red cycle road inland - can't go directly north on the coast here due to the estuary; there is a minor road also, but the main one is an easier ride, about 4km and you'll come to an intersection that gives the option of going north to Khung Wiman and beyond, or inland to Thai Mai 12km and on to Chanthaburi city a further 10km.

Continue along the road 5km toward Khung Wiman and there's another roundabout - dolphins/loma this time. There's a big drivers' rest area under construction here, maybe completed Jan/Feb 2012. Turn left and head for the coast, all flat except for the final hill a few hundred m before the shoreline. At the base of this hill there is also a road off to the right/north where the cycle lane continues.

Khung Wiman (north side)
Small beach about 200m, ok for beginners snorkeling off those rocks, not too deep. There's a couple of seaside restaurants - food cooked on the inland side of the road and brought to you in the little bamboo huts, some modern, and not-so-modern resort-style accommodation. At the end of the road is a boat ramp, and Al Medina Beach House, a Moroccan-styled guesthouse that's quite a surprise to see in this area.

Khung Wiman (south side)
On this south side route there is a 5km loop road that follows the coast then back along the estuary.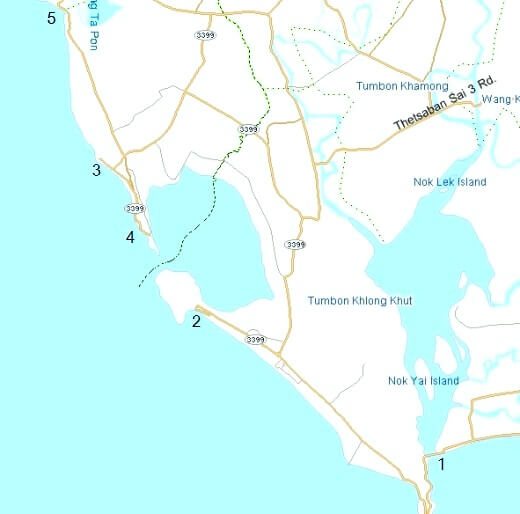 Refer to the map at right for these points, numbers 1-5 refer to:


[*]Bridge over the hills to south end Chao Lao; best swimming usually about 1/2 way between points 1 and 2
[*]Laem Sadet and Khung Kraben
[*]Khung Wiman north
[*]Khung WIman south
[*]Na Sa & Khlong Ta Pon

The main beach at Khung Wiman is aprroximately 1km long. Some waterfront restaurants here, continue along the flat and up the hill. The hill - both sides - was once sealed but now a mess, rutted and potholes, on a road cycle best to walk, ok on an MTB. On the sea-side of the road you'll see a Buddha facing out to sea; turn left opposite this statue and it's a one-way road (going the wrong way but don't worry) which takes you to a good lookout point and another statue, views on a clear day.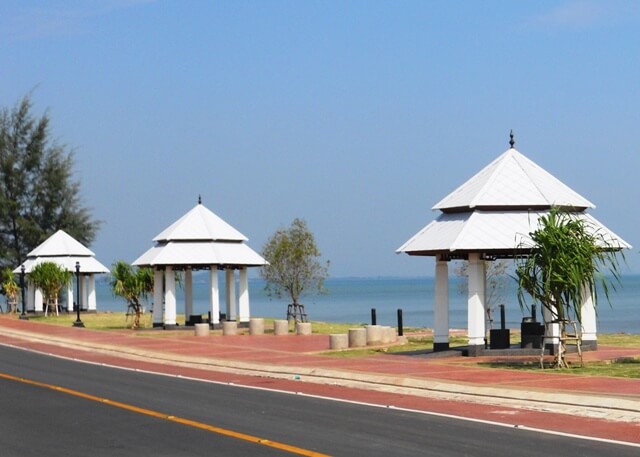 Continuing along you'll get a view south and of the estuary, and facing south you can see the hill on the other side that shelters Laem Sadet. It's a 14km ride here around the estuary, all flat apart from a couple of hills, but in straight line only 2km from Laem Sadet - as the crow flies. The road loops back through clusters of boat fishermen's houses and exits back on the road into Khung Wiman, 5km in all.
Heading north from Khung Wiman the red cycling lane continues, but there is
'not much to see here.'
Rubber tree plantations, fish farms, after about 6km there is Na Sa, a fishing village, the beach here is more like mudflats, not a white sand beach, and unsuitable for swimming. The next good beaches would be south of Ban Phe another 30+ km away.
Some notes for people doing this trip:
*Laem Sing and Chao Lao have the only ATMs along this route.
*The last section of red cycle lane over the hills at south Chao Lao was completed very recently.
Article and photos by Atmos