The Princess Maha Chakri Sirindhorn's Cup Tour of Thailand
Stage 4 – Lampang to Phayao 162 kms
April 4, 2014 – The OCBC Singapore Pro Cycling Team remained in the spotlight at The Princess Maha Chakri Sirindhorn's Cup Tour of Thailand, as Australian rider Cameron Bayly captured second place in Friday's Stage 4 for the team's second straight stage podium result.
Bayly completed the 162-kilometre stage from Lampang to Phayao in a time of 3:50:52, just 6 seconds behind stage winner Maarten De Jonge of the Terengganu Cycling Team.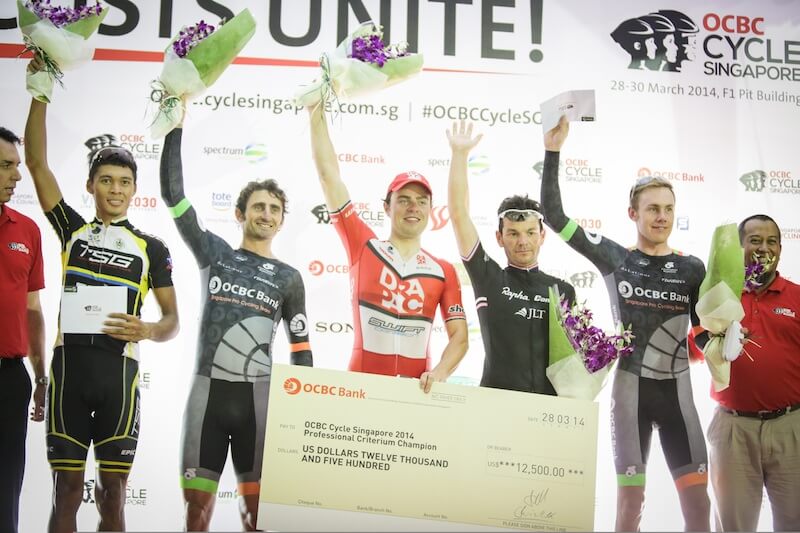 However, fellow OCBC rider Eric Sheppard, who entered the day wearing the overall leader's yellow jersey, surrendered his lead atop the General Classification (GC) standings when he finished 26th in Stage 4, 1:17 behind De Jonge. Sheppard slipped to fifth in the GC standings, 22 seconds behind Team Hong Kong-China's Cheung King Lok.
Bayly's podium finish adds on to the team's growing list of podium finishes on the Union Cycliste Internationale(UCI) Tour, making it 11 in the 2014 season.
"It was a tough stage, with a challenging climb just 30km before finish," said Justin Cheong, Team Manager of the OCBC Singapore Pro Cycling Team. "Cameron once again showed that we are always a threat to snatch a podium finish. Eric may have lost the yellow jersey, but we think we still have a great shot at coming back in the final two stages."
The OCBC Singapore Pro Cycling Team's remaining riders Goh Choon Huat (3:53:03), Ho Jun Rong (4:07:11) and Mitchell Mulhern (4:07:11) came in 37th, 84th and 85th respectively.
Goh is the highest-ranked Singaporean in the General Classification standings in 12th place, 1:37 off the lead, while Bayly, Ho and Mitchell currently ranks 71st, 78th, and 84th, respectively.
The riders will continue with Saturday's Stage 5, a 134.15-kilometre ride that begins and ends at Phayao Lake. Read about Stage 5 here.
Princess Maha Chakri Sirindhorn's Cup Tour of Thailand 2014 Stage 4 results from Thai Cycling Association