Started in March 2011, Follow Me Bike Tours are a new addition to the Bangkok bicycle tours scene. They definitely have all the right ingredients to show you a great time. Follow Me Bike Tours currently offers two four-hour tour packages in Bangkok (Explore Siam Boran and Explore Siam Sawan) with more in the making. If you want to ride for more or less time or to see something different then they will also happily custom make a tour to suit your needs.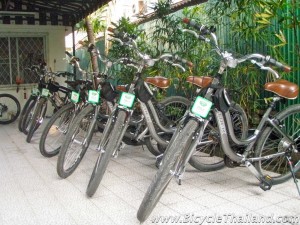 All tours are suitable for anyone that can ride a bike, as the pace is very relaxed you don't have to be a super fit experienced cyclist to enjoy your tour. Almost all riding is done away from the well trodden tourist roads on small quiet back sois and canal paths (that you'll never knew even existed before your tour) with only the occasional busy main road to cross, all road crossings are lead by the tour guide and made as safe as possible.
The first major plus for Follow Me Bike Tours Being is that being based in downtown Bangkok they're just a quick Tuk Tuk ride from most of the hotels. On arrival at the club house (which would have been slightly easier for my taxi driver had there been a few more signs along the soi) you are greeted by a small oasis, a little gem in this fast paced city, offering a peaceful location to prepare for your day ahead, with a free tea, coffee or cold water (Coke and other soft drinks are available for a small fee). All riders are measured to ensure they ride the correct sized bike throughout their tour, again adding to the comfort and professionalism displayed throughout the trip. The bikes ridden are a sit up and ride style bike, all are new Trek Navigator hybrid bikes with suspension fork for added comfort, perfect for the bumpy streets of this city.
Each bike comes equipped with a small bag to carry your camera and personal belongings – although you are also able to leave them at the clubhouse. A rain jacket is provided just in case and the website states that helmets are available if you wish to use one, however I wasn't offered one. Should you have small children, they are also welcome as child seats are available so the whole family can enjoy the ride.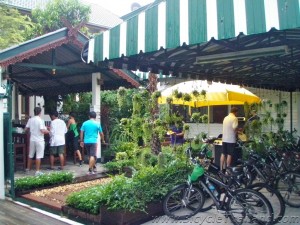 Two English speaking Thai tour guides accompany every ride and are only too happy to answer your questions and to keep you safe when crossing busy junctions. They are extremely knowledgeable and share an equal passion for Bangkok and all its hidden treasures. Along with the temples and markets that you'd expect to see on any tour of Bangkok they also show you a few surprises you really never thought possible. Along the tour there are plenty of stops to enjoy the surroundings, take photos as well as enjoying a soft drink stop or two.
What makes Follow Me Bike Tours so unique is their attention to customer satisfaction, everything possible is done to make your day a memorable occasion and worthwhile of your latest social networking update.
When you return to the clubhouse the BBQ is ready and the food served has definitely been well earned. If your feet are a little tired from all the pedaling you can enjoy the fish spa as well as the WiFi which are all included in your tour price.
If you are looking for a tour of this amazing city whilst you are here on your holidays or to simply learn a little more about the city in which you now live, I would highly recommend spending four hours with Follow Me Bike Tours