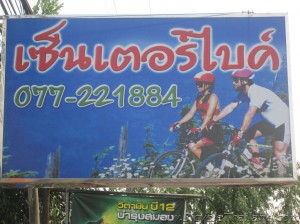 This month's featured bike store in Thailand is Center Bike. Located on Highway 401 in Mueang Surat Thani.
Center Bike
67/48 Srivichai Road
T. Makham Tia A. Mueang Surat Thani
84000
ภาษาไทย [+]
Center Bike
67/48 ถนนศรีวิชัย
ตำบลมะขาม อำเภอเมืองสุราษฎร์ธานี
จังหวัดสุราษฎร์ธานี 84000 Tel: 077-221-884, 077-282-295
GPS – N 09 06.939, E 99 18.567
This shop stocks a mix of Trek and affiliated brand bicycles as well as Merida. Its central location on a major road in Mueang Surat Thani makes it easily accessible and convenient for locals as well as cyclists passing through.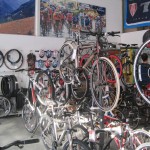 Repairs can be made on all makes and models of bicycles at the shop while the showroom floor has a few hard to find items displayed that just may save the day for touring cyclists that find themselves in Surat. It should also be mentioned here that Surat Thani is the city from which ferries can be caught out to the islands of Samui, Tao, and Phangnga. If you happen to be taking your bike out to islands with you for a happy holiday of cycling, make sure to stock up at Center Bike with the basics that may prove to be much harder to find out on the islands. Happy riding!