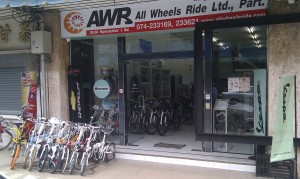 Traveling by bicycle through the Deep South of Thailand is a wonderfully rewarding experience. The sights, the smells, and the tastes of Thailand's southern provinces are rich and memorable. Amongst Thais, questions concerning the South tend to elicit answers about its beautiful landscape, SPICY food, and the fast, friendly dialect of Southerners. Four of Thailand's southern provinces border Malaysia, with Songkhla province having the area's largest city, Hat Yai. The city of Hat Yai serves as the domestic airline hub for all flights to southern Thailand and beyond, making it a great start or stop point for touring cyclists.
This month's featured bike shop is located in the city of Hat Yai, in Songkhla province. Cyclists traveling to Malaysia from Thailand usually make their crossing from either the Songkhla or Satun province. While there are fewer bicycle shops in the outlying areas between large cities, the shops you will find tend to be well-stocked, most likely because of the fair amount of cross border trade that Thailand shares with Malaysia. Also, in Malaysia, Mountain Biking has caught on big time and the country has witnessed a massive increase in annual races and events that are well within driving distance of the Thai border, giving Southern Thai riders great access to Malaysia's trails and races.
All Wheels Ride is owned and staffed by a friendly and helpful family. Bicycle brands on display were: Giant, Fuji, Bianchi, Chevrolet (foldable), Jamis, and Pivot. All manner of Shimano OEM parts were featured in glass case counters while clothing and accessories filled the walls and rear room of the shop. It was evident that far more bicycles, in boxes, were being kept in the rear of the shop, hinting at additional size and model options to the decent display of bikes already assembled on the showroom floor. Those boxes also mean All Wheels Ride could be a good find if you'll be needing to have your bicycle boxed up before a flight from Hat Yai's airport.
AWR – All Wheels Ride
36/38 Nipatuthit 1
T. Hat Yai A. Hat Yai
90110
ภาษาไทย [+]
AWR – All Wheels Ride
36/38 ถนนนิพัทธ์อุทิศ 1
ตำบลหาดใหญ่ อำเภอหาดใหญ่
จังหวัดสงขลา 90110 Tel. 074-233-169, 074-233-621
GPS – N 07.00632, E 100.46917
Good location, repair service for all makes and models, and enough accessories stocked to handle those last minute needs before heading off on a cycling adventure in Thailand OR Malaysia makes All Wheels Ride in Hat Yai this month's featured bike shop.